Herbal Pedicure ( New Service ) $46

{Includes soak with essential oils, file, buff, shape, cuticle cleanup, herb + herbal oil + sea-salt exfoliation, moisturizing clay mask, hydrating lotion, hot stones, extra massage, hot towel and polish if desired}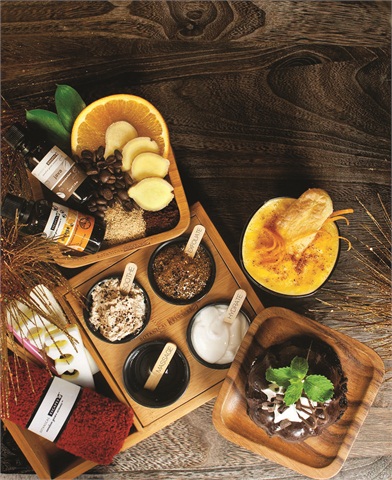 HERBAL SPA TREATMENTS:
Herbal Spa treatments are rich in natural ingredients for a perfect spa experience. Comes in a variety of choices that you can custom chose.
Rejuvenation




---

Feeling tired? Relax and rejuvenate at the same time! Ingredients: Peppermint+Spearmint
Congestion Relief




---

Created to soothe stuffy noses and open Airways! Ingredients:| Eucalyptus+Peppermint
Herbal Detox




---

Rich with antioxidants to help detoxify the body! Ingredients:Green tea+Lemongrass+Rosemary
Bridal Bouquet




---

A fresh smelling floral indulgence designed to pamper brides to be! Ingredients:Rose+Lavender
Calming Tea Time




---

As relaxing as a cup of tea on a Sunday afternoon. Ingredients:Ginger Root+Green tea+Lemon Essential oil
Migraine Relief




---

Ease your aching head with a migraine relief spa treatment. Ingredients:Spearmint+Lavender
Muscle Tension Relief




---

The perfect treatment for sore, aching muscles. Ingredients:Eucalyptus+Rosemary
Mental Clarity


---

Designed to benefit both mind and body. Ingredients:Rosemary+Peppermint
Stress Relief




---

Let all your cares slip away with a herbal stress relief treatment. Ingredients:Lavender+Chamomile
Just For Women




---

Calms anxiety, creates euphoria, a wonderful treat. Ingredients:Lemongrass+Rose
Renewing Rose




---

A renewing spa experience with floral rose! Ingredients:Rose Petals+Rose essential oil
Relaxing Lavender




---

Relax and unwind! Ingredients:Lavender+Lavender Essential oil.